Unusual Cases: Post-Polio Syndrome
Dublin Core
Title
Unusual Cases: Post-Polio Syndrome
Subject
Patients who thought they had long ago conquered the weakness and disability of polio are now being visited by an unwelcome reminder of their childhood illness.
Rights
Copyright is retained by The Lincolnshire Post-Polio Network and/or original author(s). Permission is granted to print copies of individual articles for personal use provided they are printed in their entirety. Reproduction and redistribution of any articles via any media, with the exception of the aforementioned, requires permission from The Lincolnshire Post-Polio Network and where applicable, the original author(s)
Files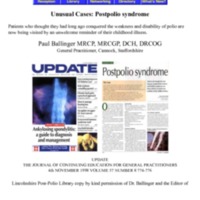 Collection
Citation
Paul Ballinger, "Unusual Cases: Post-Polio Syndrome,"
poliosurvivorsnetwork.omeka.net
, accessed November 27, 2020,
http://poliosurvivorsnetwork.org.uk/library/items/show/159
.
Document Viewer